i am now an award winning t-shirt designer.
*pats self on back*
the duluth superior adfed just had it's 33rd annual addy awards tonight, and one of my t-shirt designs for
braggame rights
went home with a silver award.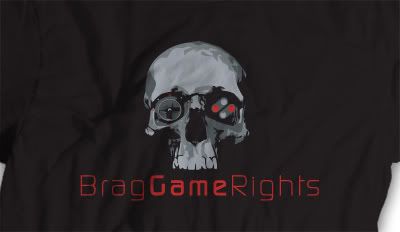 i was hired by
nelson&company
on august 4th last year, and my first 6 hours were spent creating that very t-shirt design.
i've actually known about my win for a few weeks, only because i have been helping out the adfed for the awards show. because of that, i had prepared the stills for the winner's reel. i got to work with the guys at
tri-quantum productions
putting together the winners reel and being taped telling a story about kicking a stranger in the butt in idaho. (true story)
the night was fun, i got to watch my boss drink, play a little electronic drum kit along with the dueling piano performers, play piano to some 80's hair metal song (that i can't remember right now) and then i got up and did my best (bad) will ferrel playing cowbell to "don't fear the reaper" impersonation.
interesting night indeed.