i have a history of being a habitual collector.
it started after i got into the beast wars transformers cartoon long after watching cartoons was socially acceptable, and let me state it here; anyone who says beast wars wasn't real transformers or dismisses it has either never seen it or is a complete idiot. beast wars saved the line and had the best story lines to date.
at any rate, i started buying toys, and now, over 10 years later, I have 9 tubs at home filled with transformers from all generations and our tiny bedroom walls look like a toy store stocked with packaged transformers.
after my wife and i got a dvd player late in the game, i started my viewing with clerks, and tht snowballed into a 300+ dvd collection.
yesterday morning, i stopped into a gas station and happened upon some mountain dew bottles that i had seen on the national ad. turns out they're kinda cool, kitschy and trendy in a good way.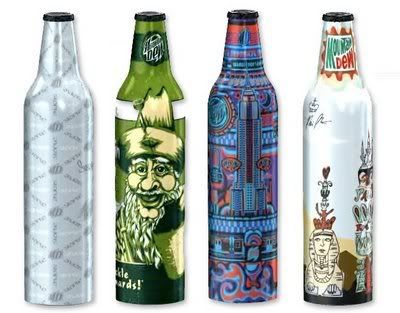 i have found that i will collect anything and everything. i blame it all on being a straight edge punk rock teenager (not the vegan bastardization that was amended in the 90's) and to this day i don't drink smoke or do drugs. it seems, instead, i collect arbitrary things. i suppose the beer would have cost me more over the years anyways.
regardless, like a college kid, i now have a collection of bottles started. though mine aren't lined up above my bed, i have them mixed in amongst the transformers and family guy figures adorning my work desk.