when i first started at my current job at
nelson&company
, i made my first design intended to go onto a retail bag.
that, sadly, never came to fruition, and i couldn't own my own plastic piece of art.
but now,
shirt.woot
(who previously printed my gojirawk shirt) is having a non-shirt design contest. instead, they are asking artists to enter in a bag design for all their shipments to go out in for years to come.
they have a limited color scheme (as most bags do) so i had some fun retrofitting a design from the past few weeks into this template.
shirt.woot
has always been an off-kilter place for people to congregate and purchase shirts, so i figured this design might be up their alley.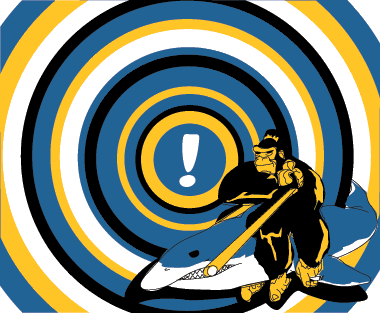 here's hoping everyone digs it, there's a decent take for the winner, so outside of seeing my design printed on plastic, it'd be nice to toss a few more bucks in the bank again.
update:
they're now up for vote:
gorrilla riding shark
8-bit jet-pack pandas