my boss asked me to design a tattoo for him so he could get inked before he heads off on vacation.
his wife (another boss of mine) had inked a beautiful design commemorating her succesfully having cancer removed. and she is so in love with her tattoo that she talked her husband into it.
my boss is a knights templar free mason (i'm sure i got some of that wrong, i know more about the springfield stonecutter's than i do of the masonic societies)
so he asked me to mix in a few elements: the double barred cross, a sword, some icons and the wings.
so i put this together, mashing them all together: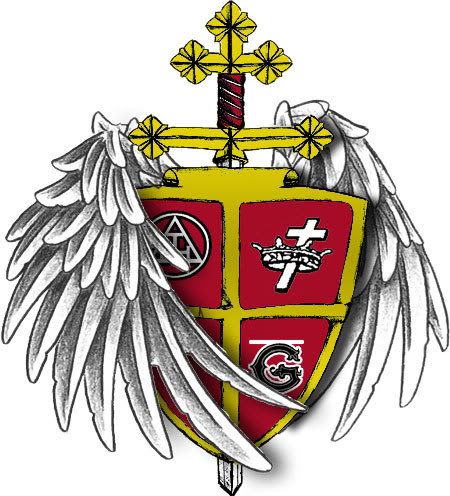 (that bar above the "G" icon appeared during file compression... i was too lazy to get the source file from work to fix it)
i'm pleased with it, the only things i didn't draw by hand were the icons on the crest (as they're too small to worry about the detail in the time crunch i was under) and the wings. the wings are from an existing tattoo design.
he's getting this on his bicep, it should look cool. he just wanted something more than the compas and all seeing eye that alot of other masons get inked in.
it was an interesting diversion for a day where a client called my work "crap".