for anyone who's not a fan of
tim and eric's
awesome show great job... shame on you.
casey and his brother are two characters who perform their own casio keyboard fueled songs on the cable access show "uncle muscles hour" these disheveled boys mix their singing with performance art, costumes and weak gag reflexes
a short while after i made my own
paper figurine family
i stumbled across these little guys: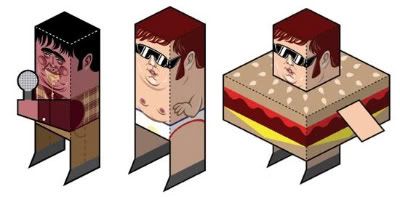 not for everyone, but definitely for me!
to keep you from digging around the net for the free paper figures, here are the links:
casey
his brother
his brother's hamburger suit
.
enjoy!